Don't tell me shit about his skill level, Tim Dog made one of the Top 5 rap albums of all time.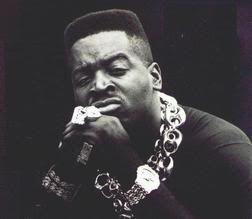 Think about it; rappers that are so bad, they're actually pretty damn good overall. As the poster child for unpopular opinion, I always felt that the downfall in the quality of rap music in recent years isn't as much due to banal lyrics as it is to the fact that so many artists don't have an iota of personality. To be honest, I'd rather hear a hilarious or unique artist with a questionable amount of skill than another lyrical lyricist spit 413 bars about "swag", sellin coke, or a food name for some clothing that I'm too old to understand -i.e 'yo fam I got them Rocky Road and sweet potato Nike dunks on son!'- over whatever Jay-Z instrumental is popular at the time. Or somebody using Kraft Macaroni & Cheese as a metaphor for the United States' foreign policy in some enigmatic attempt to be clever or lyrical. And if/when the said lyrical lyricist decides to drop an album the week after his 717th mixtape hits the streets, the subject matter never extends outside of the same Smack DVD hood/lyrical boasts he had on mixtapes 1-716. The freestyles over the Just Blaze instrumentals that anybody can sound good on got everyone excited, but the beats on the album will inherently suck, which will then be defended with an "I'm all about the lyrics" retort. After a few promo shows at the Remote Lounge NYC and an article in XXL, the said rapper will then fade into "bolivion" (sic, Mike Tyson tribute). How many hip-hop quotable rappers have fallen by the wayside because they chose to use the same confrontational tone they battled people in to rap about some Illuminati symbol on a dollar bill or their newly adopted vegan lifestyle? Only Willie D can get away with that shit.
I don't give a fuck what anybody says, the missing piece in today's rap world is really entertaining "bad rappers"; guys with laughable lyrics and styles that you knew they were dead ass serious about when they hit the studio. These artists were continually accused of ruining good beats, but in reality there's nobody else that could've done a better job on them. Don't get it twisted, though, bad rappers are in no short supply in 2009. But most of them just aren't funny or entertaining. It's not just about being a good MC, but making an album that transcends drink coaster usage and avoids getting dragged into the recycle bin for a change.  People in New York always clowned Too $hort for being non-lyrical, but when one of these lyrical wizards has 18 albums in their catalog or makes a song as enjoyable as "Paula & Janet" or "Blowjob Betty" , somebody send me an e-mail. After talking to a few other avid rap fans I respect, I broke down my four personal favorite "bad" rappers of all time.

MALACHI THE NUTCRACKER (from GROUP HOME)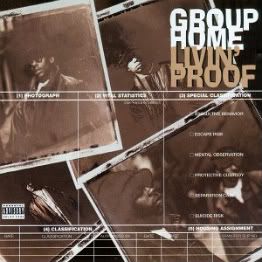 This will inherently be the one I catch the most heat over, but I'm not surprised. Hip-hop has absolutely no sense of humor, and when people couldn't see the genius of Malachi The Nutcracker, I knew we were in trouble. I used to hear textbook dreck like this from hip-hop purists when the Group Home album came out 14 years ago, and still do today:
"DJ Premier wasted the greatest beats he ever made on the Group Home album. Lil Dap is cool, but Malachi is atrocious, Premier should've given those beats to Biggie or somebody."
Or something to that effect. No. Malachi was an entertainer. His young teenage voice, his "see Spot run" simplicity, his threats of random and senseless violence against old people and his nonsensical sociopath rhetoric coagulated to make the perfect spouse for Primo's gutter jazz thump. Whether it was intentional or not (I seriously doubt it was), Malachi injected humor into a Gangstarr Foundation that albeit great, never produced any funny records. Regardless of how many Malachi detractors pop up when discussing this album -usually in regards to its production brilliance and it being the apex of Primo's career, but it going in vain because of the rhymes- he was a known tough cookie, so I seriously doubt anybody ever said anything to his face. Lines like these don't grow on trees…
"I'm outta sight on the mic do what you like/ I beat your moms in the head with a metal pipe" (Was it in the Billiard Room? Did he use Colonel Mustard? Sounds like a Clue confession to me. Mothers are overrated anyway.)

"When I take flight (like who kid?) like Mike!!!!" (Best Jordan reference ever)
"Ya know how I rock, I rock, non stop/ jump on stage, you jump…on my jock!" (It's just that simple…literally)
However, the prime example of Malachi's good badness would surely be his verses on "Up Against The Wall". I don't even think you can freestyle rhyme gymnastics on this level (he comes in at 1:05)
"You stupid muthafuckaaaa my rhyme is fat!!!!!!!!"
When I said (and still say) that Group Home's Livin Proof album is better than both Jeru albums, I'm met with accusations of not knowing music. Fuck that. Malachi didn't do too much after this album, but wherever he is, he's got a fan in me. His actual rap skill left a lot to be desired, but he was ahead of his time with the senseless violence and his through the roof passion in the face of his overt simplicity. I know there's a lot of MCs who on paper would fit in the same category as Malachi, but they're just not dope. Maybe it was just how Malachi did it, and style points are very hip-hop. I don't give a fuck what anybody says, I want a Malachi solo album.
DISCO RICK
Disco Rick was Miami's misogynist answer to Run from Run-DMC. He yelled with mass amounts of echo, but that's where the comparisons stop. Disco Rick made his mark rapping about getting head from everybody from Nancy Reagan to girls he knew named Margaret, Sharon, Karen, Jackie, Tyra, Lana, Dede, Sherry, Mona, Lisa, Laverne, Shana, Keisha, Marie, Laura, Janice, Barbara, Maria and Tina.
Rick had a softer side though; fellatio wasn't always his forte. He also rapped getting stopped by the fuzz in the deep south, trampy-looking broads in the flea market that needed to dress with more class, and why mothers who abandoned their kids in trash cans deserved a thrashing. The latter concept (on a song appropriately titled "Babies In The Trash Cans") found Rick actually on the way to providing a serious and viable concept song on an album full of misogyny, but about 55 seconds in, the line "we got to educate the hoes" just foiled the plan. Rick's skill level being applied to a concept like that is the moment of good badness that actually makes him more enjoyable to listen to than anybody I've heard in recent memory…
TIM DOG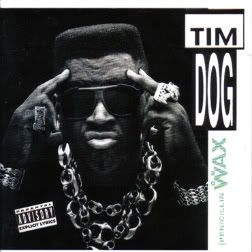 Tim Dog was widely recognized as being in the doldrums when it comes to rap skill in the early 90s. But that fact makes him even more incredible to me, because his first album (Penicillin On Wax ) is the greatest rap album of all time (I can hear myself getting roasted in cyberspace for this one). It's insane to think that a guy who rhymes "(Why you dissin Eazy) cause the boy ain't shit/ chew him with tobacco and spit him in shit" on his album is a damn genius. But when it comes to pure entertainment, it didn't get any better than Tim Dog in 1991. I can actually go out on a limb and say that if he actually had superior rap skill, the album wouldn't have been nearly as enjoyable. With the album artwork depicting Tim Dog in very early 90s NYC 'hide your Starter jacket' mode and the inner sleeve showing a posse photo with some very angry and big bat wielding gentlemen with ski masks on, the image is not one of lyrical dexterity, but of brute force.
Tim is actually at his best (and funniest) when he's really attempting to be on a Big Daddy Kane level of lyricism.
"So whether ya think that I'm just a myth/to riff/the gift/the if/the fifth/the shift/the spliff is in control I hold a bowl/and make an ache and take a fake/ WHEEEEEWWW, and I'm still too great…Fuck Compton!"
Huh? Wow. It gets even better when Tim uses his imagination to go hardcore.
"Imma step to a wack MC/and if he try to get beef with me/ I'mma wax his ass, I'mma tax his ass, I'mma fax his ass and cold lax his ass"
You get the message that Tim is pissed off and the said ass is in trouble, but I always wondered how you can fax somebody's ass. How he'd lax his ass, I don't wanna know either, as I'm assuming lax means laxative, or diarrhea. This album is probably the funniest hip-hop album ever made, but I think Tim Dog did it with a straight face, which makes it even funnier. Then there was the prime example of Tim's good badness, "Dog's Gonna Getcha". It's essentially a three minute sleigh ride into threats, screams, grunts and non-lyricism, but it sounds better than most of The Source's picks for hip hop quotable in the last 15 years. Here's the whole song, a simple quote can't do it justice…
The song is so lyrically bad (meaning bad) that I actually have it in my personal top 20 greatest rap songs of all time. I'm as serious as cancer, that song is God damn unbelievable, just not lyrically skilled…if you know where I'm coming from. Example: KRS-One's "MC's Act Like They Don't Know" was OK, it was lyrically skilled, but it was nowhere near as good as "Dogs Gonna Getcha" when it comes to listening pleasure, not even close. Tim does actually have some decent rhymes on the album, but the majority is that rare display of unskilled hardness and humor that you just don't witness anymore.
PROJECT PAT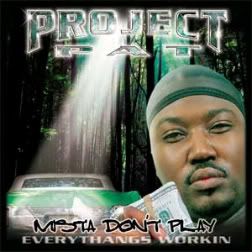 When it comes to bouncing ball phonetics and Speak n Spell southern drawl, nobody is coming close to Pat. Every word is seemingly broken into syllables and sounds, and the actual rhymes are exceedingly countrified. But what really puts Pat over the top is the fact that he not only admits, but brags about feasting on the hog. Pork is high in saturated fat and cholesterol, but putting Pat up on the health benefits of Quinoa is useless…
"Buyin you/ taco bell/ but a pimp/ eatin steak/ corn bread, collard greens, chitaleeeeeens (chitterlings) on my plate."
Or when he explains to a girl why his gas tank is empty, he has a worthy excuse.

"That's just the meter broke/ u dontknawcha talkin bout/ anyway them new Jordan's finna come out."
Its safe to say that Pat isn't the Pharoahe Monch of Memphis, but the absence of lyrical gymnastics in his style is what makes him as appealing as he is.
The pinnacle of P. Pat's good badness would be the "Nature Of The Threat" level of depth he displays on "Gorilla Pimp" (You Tube is being soft, video clip won't embed.)
"Gorilla Pimp" by the incomparable Project Pat (link)
"(I'mma call yo mama up), bitch that's a no no!"
Tim Dog, Malachi The Nutcracker, Project Pat and Disco Rick…You can say what you want about their skill level (or lack thereof), but one thing is for sure. They'll be remembered much longer than your latest rap wunderkind who made one crappy album.
88 Responses to "J-ZONE'S GUILTY PLEASURES: GREAT "BAD" RAPPERS"
Leave a Reply
You must be logged in to post a comment.