J-Zone still owns and operates a cassette walkman. He also tried to have a tape player installed in his car, but he was laughed out of the dealership (seriously).
While sweatin to the oldies at Planet Fitness (a notoriously bootleg gym chain) not too long ago, some ragtag living room couch of a broad who was on the treadmill (and deservedly so) busted out laughing as I walked past her. I assumed I knew why, but sometimes I like to think that there's really nothing wrong with using a cassette walkman in 2009. I guess there is, because the bitch shouts "you just get outta prison or something?!" I didn't know what she meant at first, but when I got home later that night it hit me. If you went to jail in 1993 and just came home, you might not know that the Discman came and went and the ipod has made its way to the top as the standard portable medium of playing music. Look, I got off dial up internet in 2006, got a cel phone that was more than $14 in 2009 and have a vicious enemy in the form of mass text messages. I've always instinctively resisted every single technological advancement upon its introduction to popular culture, but eventually I'm backed into a corner and forced to get with the times. But the jury is in, and I don't think I can ever make the switch to the ipod. For one, the look of it. When I think of ipods, I think of broads doing low-impact cardio on the elliptical machine at the gym, and that blood pressure taker looking Inspector Gadget arm sleeve holder that it sits in. They're slim, frail and dainty. You can't listen to Mob Style or Pretty Tone Capone on an ipod, it just doesn't make sense, that's an oxymoron. I also can't ride with the prospect of buying albums digitally and not getting any liner notes. Album art and liner notes/credits are just as a much part of the consumption of music as the music itself, and I just can't get used to getting an album and being sent an 800×800 jpeg of the cover art. There's nothing like buying a great album, then reading the liner notes and seeing Masta Ace playfully diss Mr. Cee for giving Big Daddy Kane the beat that was supposed to be his. Or seeing who produced track #5. Or looking at never seen before photos. Or reading Red Hot Lover Tone dissing all the people he's supposed to be giving shout outs to. Or reading the credits for Public Enemy's Fear Of A Black Planet and discovering new artists you've never heard of by the categories they were placed in for the acknowledgements. Or seeing shout outs to people who weren't famous, but friends of the artist. These dudes had names like Big Ray Roll, Big Dog and Psycho Pimp, and you wonder where they are today. How about reading Kool Keith's opinions on who the best producers in rap were at the time (of course he listed himself as #1). I got a shoutout out in one of the Eastern Conference Records' albums back in the day, with "you should have signed with us" after my name in parenthesis, prompting folks to e-mail me to see if it was a snub, and if it was, would I come out and dis them on record. Imagine buying De La Soul Is Dead on iTunes…how can you enjoy the whole thing without seeing the cartoon artwork? I recently bought a CD re-issue of Kool & The Gang's Live At PJ's just for the bonus liner notes, because I already have the album. As fans, these are things we used to look forward to reading when listening to the music, but as for people coming up now, I guess you can't miss what you've never been exposed to.
Does anybody remember this?…The closest thing we had to iTunes back then was the short-lived custom tape maker at Sam Goody record chain (if you actually remember that, you're an OG). There would be a book of selected songs from current and popular artists, and you could order whichever songs you wanted and make a custom tape. I think the songs were $1.99 each. I'd bullshit around the Galleria Mall in White Plains for an hour while they prepared it, and come back to Sam Goody and my tape was ready. The first time I did it, I got Freshco & Miz' "We Don't Play" and Uptown's "Dope On Plastic" and "It's My Turn" on a custom tape, but only because those songs were never released on an album. Needless to say, the Sam Goody Custom tape machine only lived one year (1990) before it was given the axe, partly because most albums back then were decent enough all the way through to warrant the $10 price tag.
Speaking of which, the number of shitty albums released on tape was far less than the number of shitty albums available on itunes, especially with rap. People bitch and moan about having to fast forward through the tapes, but when tapes were in their prime, most albums didn't have much in the way of fast forward material. Albums were -and sometimes still are- about peaks and valleys, you'd want to hear every nook and cranny of what an artist was doing. Besides, shit like "LOL Smiley Face" never came out on tape.
Tapes also hold a high level of significance in the landscape of hip-hop history, and that's beyond capturing defunct radio shows and park jams. Cassettes took over as the primary medium for bonus cuts, like the "12 b-side did for vinyl. Albums like Stetsasonic's Blood, Sweat & No Tears , Nas' It Was Written , Digital Underground's Sex Packets and Lord Finesse's Return Of The Funky Man were all creatively marketed with tape only bonus cuts, which gave you an incentive to hunt down the album in each format. There were even albums that only came out on cassette (the elusive Baritone Tip Love Livin Foul album from '91 and numerous regional gangsta rap albums) or cassette with a limited dose of wax, but no CD (half of the Warlock/ Idlers Records catalog or AZ's Streetwise and my debut album, Music For Tu Madre , before the reissues). If nothing else, I miss buying tapes and seeing the order forms for merchandise from the group and record label inside of the fold out liner notes. The cassette inserts of the Luke Records (2 Live Crew, Poison Clan, etc.) albums were always my favorite…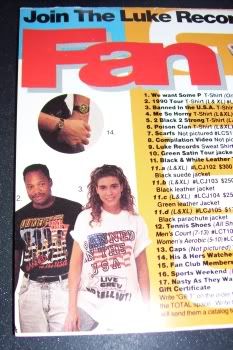 Luke was a visionary for racial harmony, as he's got the junior high school cafeteria manager-looking middle aged brother standing side by side with the young trampy-looking white chick. These are epiphanies that you just can't unleash in the milquetoast world of iTunes. Needless to say, I ordered a We Want Some Pussy t-shirt before I lost my virginity, but I don't think the kid growing up in the world of iTunes can experience the same rite of passage and that's a God damn shame. Raekwon had a purple tape, myself and Masta Ace had gold tapes, Illegal had a red tape, but I've never seen an MP3 with a color.
I'll play Devil's Advocate for the digital world when I speak from the view of the artist. Who really buys music in physical media form in 2009? A small number of folks, but pressing up music in any physical form is risky. There are enough copies of a few of my releases in my basement and in my distributor's warehouse to re-open a Crazy Eddie chain. But then again, my first two albums are near impossible to find, and I get requests to re-press them. I put them on iTunes because it's risk free and saves me the hassle of getting stuck with CD overstock, but sometimes I wish it wasn't that way. It makes me seem like a hypocrite because I'm plugging these releases on iTunes, but I don't even have an account there. It's a catch 22 between things financially making sense and catering to the few fans like myself that still appreciate tapes, CD's and LP's as part of the full music buying experience. That said, for all looking for my first two albums, my Experienced EP or my Chief Chinchilla (Live @ The Liqua Sto ) album, if I ever re-issue them in physical form it will be on tape only. Call it the era I grew up in, call it stubbornness, but cassettes will always reign supreme in my book.
And don't even talk about DVDs vs. VHS tapes. I didn't see O-Dog passing around a DVD of the liquor store robbery in Menace II Society. Dig where I'm coming from? If that isn't enough to convince you, here are some photos of my collection that explain why I refuse to switch…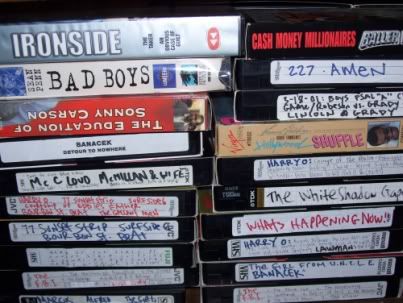 Random Tapes: Some of my favorite flicks old and new, a bunch of obscure TV shows I taped on VHS over the years (Harry-O, McCloud, Surfside 6, Banacek, What's Happening Now!!, Head Of The Class, 227, Amen, The Whiteshadow, etc.), the NYC Public HS B-Ball Championship Game (2001) and a bunch of other random shit.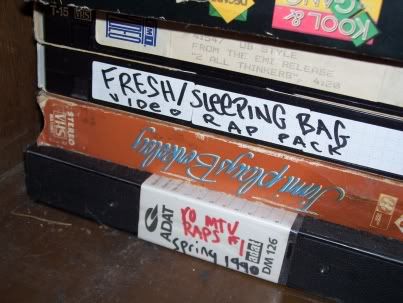 Music Videos: Yo! MTV Raps Spring 1990 tape (gotta preserve that one), Sleeping Bag/ Fresh Records video comp, UBC "UB Style" video (EMI promo), Hendrix @ Berkeley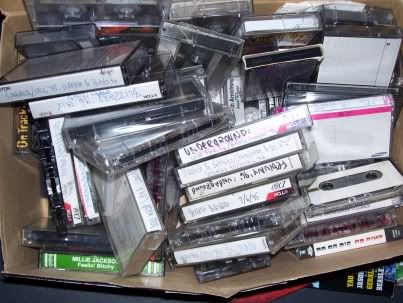 Radio show tape box: Stretch & Bobbito, Sunset & Mayhem (WNYU-FM), Martin Moor, Doo-Wop Mixtapes, Across 110th St. (Columbia University funk show back in the day), Do Or Die "Po Pimp" cassingle (Chi-Town love on that one).
More bugged movies, Ice-T's OG Home Video (he did videos for the whole fuckin album, that's hard), PE Fight The Power Tour Video.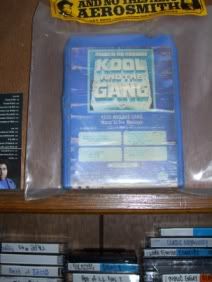 Left: Kool & The Gang- Music Is The Message 8-track tape (it's only right!) Right: Me and my pops jammin on drums and organ in the basement when I was 6 years old. Oldest tape I got and the first music I ever made…in the first grade! (no, I'm not digitizing that one).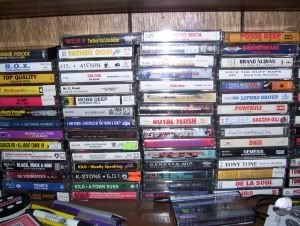 Jeah. Sorry about the Flash, my camera was $120. If you need a title of a joint, let me know.

13 years of doing my own number series. Shits is hard. What do you think is on ohhh…Tape #14?

Like everything else that was popular 20-25 years ago, I'm thinking that there will also be a small resurgence in tapes at some point. They may wanna Do The Right Thing it all the way out and go get a ghetto blaster to be super-retro, but maybe tapes are too much of a hassle and somebody will make a an ipod that sits inside of a ghetto blaster frame, who knows.  Just like I'm sure some fools will have the audacity to bring back Africa medallions, just to let them pass as a fad again after 6 months. But only real OG's never stopped rolling with tapes and never will. I always tell people, hip-hop is a generational thing. You'll always relate to the era you came up in above all, and some habits die hard. So until Disco Rick & The Dogs' entire catalog is uploaded to itunes in the year 2047, I'll keep being mistaken for an ex-convict.
Stay tuned for a future tape related entry that will include video footage of the collection…yeah, I'm getting hi-tech now.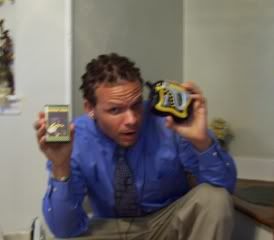 Father Dom debut tape…NOT ON iTUNES!
I got auto-reverse on this bitch too…
47 Responses to "I'M NOT AN EX-CON, I JUST LIKE TAPES Pt. 1"
Leave a Reply
You must be logged in to post a comment.