Note: This week, I'm taking a brief break from clowning men with purses, Kanye's shag,  Nas & Kelis' dummy vs. chickenhead war, the corniness of Twitter and rappers forcing their awful music on you in the streets instead of getting a job. That side of J-Zone will be back soon, but for now I'm gonna dip into the less curmudgeon-like side of myself. Can't have this column being pigeonholed now, can we?
J-Zone @ Out Of The Past In Chicago, December 2007.
TOP 10 ADVENTURES IN DIGGIN'
Your girlfriend will never understand you dragging her into an asthma inducing dump of a store to sift through records. You then remind her to shut the fuck up, because every time she dragged you into some store in the mall to look at some Tarot cards or some draws that are just gonna come off anyway, you suffered through it like a man. When a man is into digging for records, he puts his health (and life) on the line. I haven't known anybody to die in the line of duty, but some of us have knocked a few years off of our lives by inhaling mold and funny looking dusts that can't possibly be OSHA approved. Some people fly to strange countries just to dig, but I never went that far. I'm not a digging nerd, I have actual bills to pay. Believe it or not, I've gone record hunting on three different continents and my best stories are from local spots and junk yards right here in America. Sometimes it's all about the experience, not the records.
I started collecting in the fourth grade (1987). After discovering my folks' old funk albums as a kid, I became a completist and tried to track down every record by every group.  At the time, most of these records were 10-20 years old, but there was no internet and there were no high profile dealers, so joints that reside in the dollar bins -or even made their way to itunes- today were much harder to find then. I was spending all of my $10 a week allowance on records, and I also started playing bass guitar around this time, so of course funk records gave you the best shit to emulate and practice to. Anyway, here are 10 spots/adventures that stand out in my mind from my 22 years of record collecting.
10. GREENLINE RECORDS (Jamaica, Queens)…Defunct
This spot was dumpy as hell. It was the first record store I ever called "home", which was from 1987-89. It was on Guy Brewer Blvd., about 3 miles from my house, and my pops used to go there to buy jazz when he was in high school. So when I was trying to find Bohannon's Stop & Go album (which is hard to find to this day) and complete my collection for the group Slave and couldn't pin down two of their releases, my pops suggested we try "a store I used to go to as a kid". When you walked in there, it was just nasty. It had a big ass Ms. Pac Man arcade game in the front, and 2 shelf cases, one with cassettes and one with 8 track tapes for the local pimps that never updated their Cadillacs.  There was an older man with glasses who owned it and another dude who looked like Lee Oskar from War. He took me to a Slave section that was about a foot thick. 3 and 4 copies of every album they ever did. It was like I asked him for a copy of Bigger and Deffer or something (that was the biggest rap record out that the time). He pulled the last copy of the Stop & Go record out of an even bigger Bohannon stack.  For the next two years, every penny of my allowance was spent in Greenline. As I got older, I found other stores and got into the conventions, but Greenline remains king and every time I pass where it was, I stop and nod to it. Being that Studio 1212 was around the corner, a teenaged Large Professor, Ultramagnetic and the late Paul C all did work in that spot. The last time I was in there was 1999, when I was working on my Bottle Of Whup Ass EP. I got a few silly ass jazz records that I wound up using on there, and Dick Hyman's Moon Gas LP for $10. Moon Gas now fetches for near $100. They closed a year later, RIP.
9. RECORDS UNLIMITED (New Rochelle, NY)…Defunct
RU was on a tougher section of the main drag (North Avenue) in New Rochelle. Back in '89, I would always get my hi-top fade cut at Al's Barber Shop around the corner from this record store. It didn't look too dingy, so I never went in there much. But when I started to collect hip-hop and hip-house around that time, I started to go in there to get "12 singles and tapes. That's when I discovered the nice selection of funk they had. Along with my cameo haircut, I was also collecting the funk band Cameo's early shit around this time, and RU had a nice selection of early Cameo. I also bagged Kool & The Gang's Light Of Worlds LP in there for $6 after my first time seeing it a month prior at Colony Records in Manhattan -fuck Colony, rip off ass tourist trap- for $30. Every time I got a haircut at Al's -which was $8, damn, barbers are recession proof- I'd spend $10 on some records in there and use the other $2 to get back to my moms' apartment on the bus. The last record I bought in there was Ohio Players' Pleasure album. A month later, I passed by it on the Bee-Line 61 bus and it was boarded up.  My next time over there getting a haircut, I walked over and asked some Jamaican dude standing in front of the neighboring Goffman's bodega (a hood ass New Ro hangout) what happened to Records Unlimited. He shook his head and said "The IRS. They didn't pay their bills, mon." Bloodclot!! I don't know if that's true, but from that day on I used the extra $10 I would spend on records to get my name shaved into the back of my head at the barber shop. By then I was 13, and had broads to impress, fuck a record.
8. BREAKDOWN RECORDS (Bayside, Queens)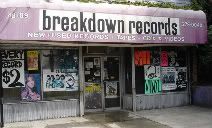 I needed to get my moms a birthday gift, and I didn't know what to get her. There was mad traffic on the Cross Island Pkwy, so me and my pops took the local streets through Queens and passed this shop. I had to stop and check it out. Glad I did, because not only did I find a Marvin Gaye LP for $3 for my moms, but I found Kool and The Gang's Music Is The Message LP for $4. I was a Kool fan (their mid-70's stuff), but I didn't know about their rarest (and best) material pre-Wild & Peaceful. This record is still a tough find today (goes for around $30 on average), and it's also my favorite album of all time. On the back of the cover, they had pics of their previous 4 albums, and when I saw that they existed, the chase was on (it would take a year before I found them all in 1990). 20 years later, Breakdown is still standing. The owner, Anthony, is a cool ass dude, and every record in the store is $2, no exceptions. I also found a cover-less OG copy of Mulatu Of Ethiopia (it's a serious and costly piece, google it) there in the late 90's. It was in a junk crate by the door getting ready to be picked up by sanitation. Not only was it in good condition, but it was inexplicably en route to the garbage. Not to mention, the place is loaded with obscure VHS and cassette tapes. Yup, tapes, still. Ipods are soft and made for women on elliptical machines, it takes a real man to rock tapes, and not on no retro shit. Auto-reverse on a bitch.  I even scored KMD's Mr. Hood , Son Of Bazerk's album and the Big Mello and Choice albums (Rap-A-Lot Records) all sealed in the original CD long boxes (remember those?). I put both Pete Rock and Edan on to this place, and they each managed to walk out with a stack. It's grimy and cluttered, but semi-organized, and chances are all these transient NYC overnight Brooklynites who don't know who David Dinkins was will probably never see it. You'd have to hop the LIRR, drive or take a gang of buses to get out there, and as soon as you're talking 2 fare zones -if you don't know what they are, you've never been in one and your one trip to JFK airport don't count- nobody wants to make the trip. Mo' for me. The best that NY has to offer isn't on the L train line, remember that.
7. NYC RECORD CONVENTION (Manhattan)…defunct
This wasn't a spot, just an event that was held either at the Roosevelt Hotel or in Union Square a few times a year. By this point (1993-94), selling beats was big business. Dealers were already digging up samples to sell at a high price. The event was a crowded who's who of producers, but the place was clean, organized and it wasn't lining you up with a future bout of lung disease. I would engineer sessions for Vance Wright (Slick Rick's DJ) my junior and senior years in high school, and my pops would roll down there with me and watch me blow the $300 I earned in the sessions the night before. When you're 17 years old with no bills, so goes life. My best memory wasn't a record I got, but the people I met. Godfather Don (who remains a cult classic producer/artist) and Herb McGruff (who rolled with Big L, Cam'Ron & Ma$e and later got a major deal with Heavy D) had done a 3 song demo tape together that never came out. They were two cool and humble dudes, and Don gave me his last copy of the tape because I actually knew about his barely known Hazardous LP. The demo was hard as hell, and I still have it today (apparently, neither Don or McGruff have a copy, or so I've heard).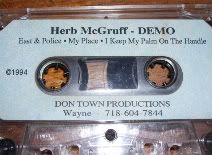 Here is one of the songs, "East & Police" (link). Vintage 1994 NYC hardness.
6. FURNITURE SHOP ON WARBURTON AVE. (Yonkers, NY)…defunct
Yonkers should be the 6th borough of NYC. Right above The Bronx, It's a racially segregated -they didn't de-segregate their public schools until they fell under pressure to do so in 1986, word to Gorton HS- and corrupt place, and in the early 90's, the Southwest part of town (Getty Square, Nodine Hill) wasn't a place you'd wanna fuck around. Besides the fact that I found the entire Wildpitch catalog on cassette (for $1 each) in the old Getty Square Woolworth's, there was a furniture shop/thrift store right on the grimiest part of Warburton Ave. I went in there dead in the middle of the Blizzard of 1996, and it was no warmer inside than it was outside. The inside was a dark, moldy, asbestos laden nightmare, but they had some serious funk 45's in that bitch. I found just about every Kool and The Gang 45 worth a listen in one giant box. There were also a bunch of obscure jazz fusion records, but of course they were beat to shit. I think I may have been the only collector that saw that place, because I came back there in the spring (with a dust mask this time) and it had been closed. OSHA probably got notified when somebody croaked.
5. SHORT LIVED RECORD STORE, NAME UNKNOWN (New Rochelle, NY) …defunct
I don't even remember the name of this joint, it opened in 1996 and it closed the same year. Owner was a coochie mouth who priced everything way too high and was a dick about people "manhandling" the records. But I was cool with one of the cats that was down with Roughhouse Survivors (a local Grand Puba mentored group) and his man was working there. One day I was just browsin through records I couldn't afford when homie walks in. All he says is, "just get whatever you want Jay, its on me". I knew this dude was in grime mode, but fuck asking questions, I took a stack of records worth about $500 and put em on the counter. This dude took about 7 crates. All of a sudden, his other man pulls up in a big ass Sanford & Son pick-up truck and the dude just starts loading. The whole time, his man that's workin there is like "y'all hurry the fuck up, the owner is comin back!". When I realized what was goin down, I grabbed some more over priced Blue Note shit I knew I could sell downtown, hopped in the truck and broke north. My man even gave me a ride home. A week later I went back to the spot and the shit was out of business. I took all the records I stole down to the city to sell and made a stack off of them. It was enough to pay for my last few driver's ed classes and some new clothes and books for college in the fall. That's what you get for trying to stick Manhattan tourist prices in New Ro.
4. INTEGRITY 'n' MUSIC (Weathersfield, CT)
My pops lived up in CT, and he put me on to this place when I went up there to visit. It was old, but clean and extremely organized. Maybe CT dudes hit this place up, but I never heard anybody from NY mention it. The owner didn't seem to like rap, so he priced it dirt cheap. Better for me, I got The 5th Platoon's "The Partyline" "12, The UBC's 2 All Serious Thinkers LP, King Tee's Tha Triflin Album and Intelligent Hoodlum's "Black & Proud" "12 all for $1 total. Yes, $0.25 a piece. Those records (the first three in particular) are a bitch to find today, let alone cheap. They also had tons of dope childrens records -I copped a mint condition copy of the Roosevelt Franklin album in there for $1- and 70's jazz fusion. If you like those late 70's Blue Note "Who Got The Props?", 'throw a filter on it', 1994 type of samples, you would've had a blast in there. Most records were $5 or less.

3. ADDICT EX-DJ (New Rochelle, NY)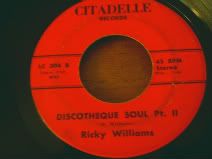 One day in 1994, some dude (who was obviously on something) was outside Vance Wright's studio on Main St. with a crate of about 300 45's. Not sure if he was on his way to get a fix, but he had joints worth scrappin over. Not just standards like James Brown, but Ricky Williams' "Discotheque Soul", The Pazant Bros.' "Chick-A-Boom" and a bunch of other limited press shit that costs a semester of state college today. Of course most of em were a bit fried, but I'm not a condition snob, just throw some alcohol on the shit and shut the fuck up. He asked us for $300, but me and Vance talked him down to $50. We gave him $25 a piece and of course, I took all the good shit, sorry Vance. Crack is a horrible drug, but damn did we get some joints. Hopefully that dude cleaned himself up.
2. OUT OF THE PAST (Chicago, IL)
AKA Don't Go Into The Basement and Kill Yourself, Don't Ice Grill Nobody Outside and Kill Yourself.
This may be my favorite record store in the world, but it's not for the squeamish, the impatient, the overly health conscious or those that don't like to go into the hood. My homie DJ Rude One put me on to this joint in the West Side of Chicago a few years back, and when I went in there, I didn't know whether to turn my ass around or go get an OSHA mask and a sleeping bag and come back and live there for a year. Before you even get inside, you spot the gang activity cameras outside and usually 4-5 serious looking dudes out front grilling anybody that walks up in there. If you go in the winter, there may or may not be some ol school pimps on the grind in some furs that contain at least 8 or 9 endangered species. You have the option of buying one of the $2 tall white tees in the store windows, and when you get inside you're bombarded with a 20% organized smorgasbord of cassettes, 8 tracks, defunct toys, VHS tapes, stethoscopes, fly paper hung from the ceiling, a James Brown 45 collage on the wall, random junk and about a zillion albums. The first time I saw it, I had 20 minutes to look around before my flight. I grabbed some super rare and regional gangsta rap tapes off the wall and a few local 500 press funk 45's that were sitting on top of a discontinued board game with no board inside and broke out. I went back another time and took 3 steps into the infamous dungeon basement. The mold and ammonia stopped me in my tracks, but I did see a bunch of sealed Syl Johnson LP's at the bottom of the staircase. Nonetheless, I valued my life too much to go all the way down. Every carcinogen known to man could be down there somewhere. I've also heard rumors of a dead bat (and a living one too), a truck that somehow managed to park down there and basically any album you want -if you're willing to put in the time and get into a brawl with your respiratory system- are too. If I ever knew I had a month left to live, I'd go down there with no protection and go out with a bang. I went with Rude and Large Professor, and even Large (aka Digger Extrodinaire) took one look at the basement and said "fuck all that" and turned his ass around. Prices vary, but I don't mind. The experience is as good as the selection, and my trip to Chi Town is incomplete without it. Every collector has to go there at least once or they haven't experienced what record hunting is all about. On that note, if I ever heard they organized that place or brought it up to code, I'd never go back. Oh, and to OSHA, PETA and the CPD…ain't no suckas live here!
1. ALL EARS RECORDS AKA "THE DINER" (New Brunswick, NJ)…defunct.
Damn, what a joint. After searching high and low for the first 4 Kool & The Gang albums to no avail, I resorted to the Yellow Pages (no internet in 1990 and I was depending on my pops to drive me around). This dude had his # in the Manhattan Yellow Pages for some reason, so I gave him a buzz. Not only did he have every record I was looking for, but the prices weren't on the standard Colony/Bleeker Bob/Golden Disc/House Of Oldies tourist bullshit. Me and my pops took a ride out there and the dude is sitting in a record cluttered condemned diner in the middle of New Jersey. No browsing allowed. You call, he goes to his "warehouse" and gets the records and meets you at the "diner".  The first Kool & The Gang album for $20 was a steal even back then, but now the shit is over $100 and getting harder to find by the day. It's the most valuable piece of wax I own, but more for sentimental reasons. He threw in Live At The Sex Machine, Live At PJ's and the first Best Of … all for $80. I saved up for weeks for that trip, and he held the records for me too. Legend has it that Q-Tip, Juju (Beatnuts) and Large Pro got access to the "Warehouse". Word also has it that all of these records were a front for some federal crime related shit the dude was doing, and he's probably playing dominoes somewhere upstate now. Could just be a rumor though, who knows. Either way, I passed by the diner in 2007 and to my surprise, it's still standing. It's vacant of course, but it felt good in knowing gentrification didn't wipe out my own personal landmark.
Sorry I don't have any Egon-like stories of getting arrested in Peru while finding records, but I never had the money/time to really smash overseas. When I was there, it was always venue, hotel, airport and maybe the most common record spot in town if we had time. I don't do it like I used to, but every once in awhile I'll hit a dollar bin for sport. These are my standout memories, feel free to share yours….
Zone
60 Responses to "J-ZONE'S TOP 10 ADVENTURES IN DIGGIN'"
Leave a Reply
You must be logged in to post a comment.